OK listen, Have you ever abused yourself? No 🙂 but I did until I overcome this pathetic situation. You know how it feels when important work files got deleted by mistake months ago. The situation became worse when you have a presentation very next morning :-p .
And Something like this happened with me :-p
I was doing Swift + Delete permanent delete on some of my video content. After 2 months I realized I messed up with my office files also.
Now I will tell you how I handle this Situation.
I had two options, A half glass of water and my PC
I drank water and reduced the level of stress
Then I google " How to recover files in my window 7″
I got several results and I tried this method but it didn't work for me My PC return "No Previous Version Found" and it increases heat level inside my brain I had my presentation am totally pissed off.
How to Recover Permanently Deleted Files from Any PC
[ This is the method I used to recover files on my pc but I failed]
1)In Windows Explorer, find the folder in which the deleted file was (not the Recycle Bin).
2)Click on the name of this folder with the right mouse button and select "Properties"
3)Click the "Previous Versions" tab. It contains information about all versions of files that were in this folder at different times.
4)Choose the nearest one by the date and try to look for it in our file. If it is not there – refer to a more previous version. And so on until you find the file you need.
Again I Opened google, and searched "Data Recovery Software" 
Got these Results…
I Checked out the first result in google and now after successfully delivering my presentation I decided to write an honest review of EaseUS Data Recovery Wizard Free
Honestly, EaseUs Data Recovery Software is a true life savior. It helps me recover my important office files. I will keep this data recovery software in the best Data Recovery software category. I didn't compare this software with other software available in the market, because what I needed was done by this software perfectly. So, I just did not have to use any other software for recovering my deleted files. Credit goes to Google Thanks for suggesting the best <3 
A step-by-step guide I used to recover permanently deleted files from pc Windows 10/8/7/XP/Vista using EaseUS Data Recovery Wizard:
Step 1. Launch EaseUS Data Recovery Wizard and select disk partition or storage location where you lost files and click "Scan".
Step 2. EaseUS Data Recovery Wizard will start a quick scan to find lost files;
After the quick scan, a deep scan will automatically start to find more files;
Step 3. Preview and restore lost data;
You can preview found data by file types, select found data and click "Recover" to save them to another safe spot in PC/storage device.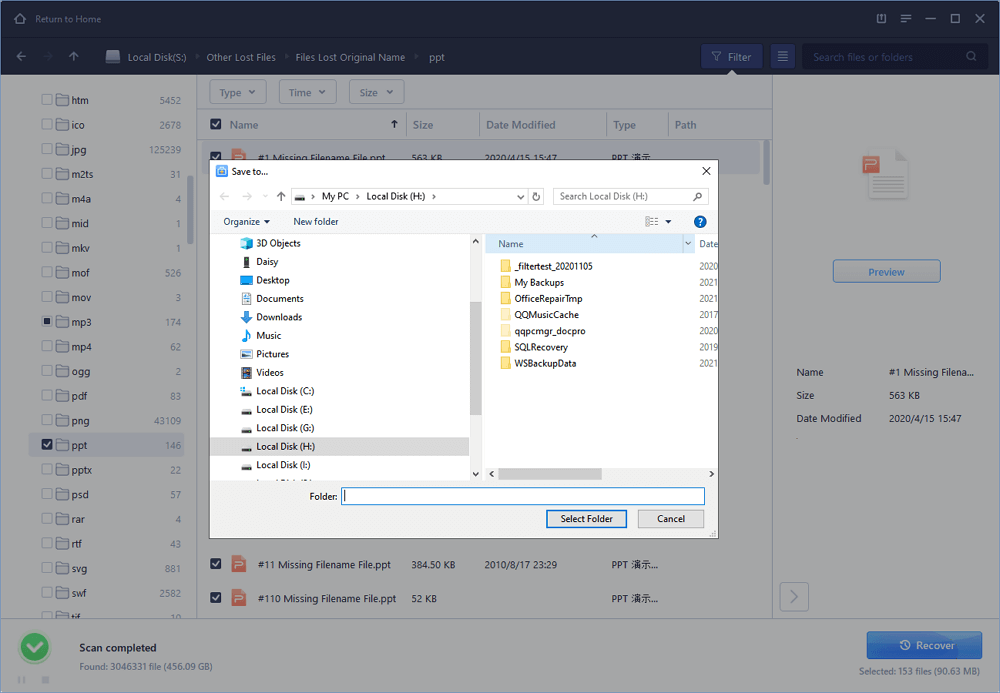 I recommend to all, according to your business, if you are looking for a great data recovery software, EaseUS will prove to be the best data recovery software for you. Very Simple User Interface Quick Scan, Deep Scan Features allow users get most out of it
it is very simple to use user don't need to do anything out of the box it makes sense, with this software data recovery made so easy like surfing internet for desired results if you are running a big business handling important business files in this case this software is must. They also posted many tutorials related to recover the deleted files.
Let's talk about the amount I paid for this software 
EaseUs offers its Data Recovery Wizard software at two tiers: Professional and Technician. I choose Professional because I don't need Technician Plans it is a complete data recovery solution designed for use by service providers, IT professionals and businesses. Each technician user license is $299 and can be used on unlimited computers.
In my case, I need one for individual Use so I opt Professional Plan it is suitable for all data loss situations. It comes with a single-user license for one computer and is priced me $89.95.
EaseUs support both Windows and Mac.
Conclusion – for me It is an all in one package if you are looking for a software for data recovery I will recommend you to go with EaseUS Data Recovery Wizard. For another Questions & Query, you can contact them through live chat support email and phone. Don't forget to come back and comment on your experience if this works for you I will post a video soon how I Recovered Deleted files from my pc using EaseUS Data Recovery Wizard.